Today we welcome Dawn from DJ's Sugar Shack. I love her cute blog, and am excited to try out the recipe she is sharing with us. Let's check it out!
Hello everyone! I'm delighted to be swapping blogs with Jilly today! I would like to thank Julie from
White Lights on Wednesday
& Carrie from
My Favorite Finds
for organizing Grow. Swap. Share.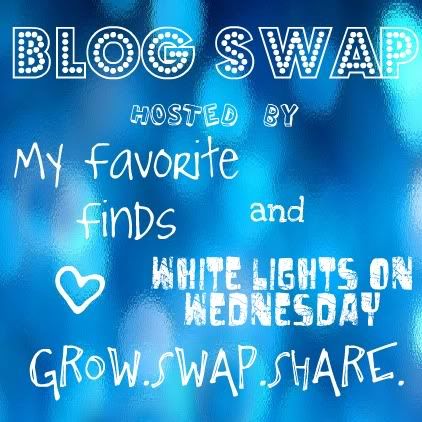 I'm Dawn and normally you can find me sharing my adventures in baking at
DJ's Sugar Shack
. I started blogging in December to catalog the recipes I'd tried and to spare my friends from my endless ramblings about baking. I love sharing my work with people that are a passionate about food and baking. Being from New Orleans, food has always been a big part of my life, but I didn't really start cooking & baking until I moved to Alaska after college. The first thing I remember baking from scratch was Strawberry Swirl Cheesecake that I found on a Philadelphia Cream Cheese package. It was pretty good but it started me on my mission to bake the perfect cheesecake. Ten years later, I finally got it right! Presentation has been very important to me from the beginning. I like my sweet treats to be just as visually appealing as they are tasty. Now on to the important thing, doughnuts. For my birthday I got a doughnut pan and doughnut cook book. YUM! I was so excited.
Pinterest
. That is where I found Diethood's recipe for
Baked Cinnamon Doughnuts with Cinnamon Glaze
.
Ingredients:
For the Doughnuts
1 cup all-purpose flour
1/2 cup sugar
1 1/2 teaspoons baking powder
1/4 teaspoon salt
1/4 teaspoon cinnamon
1/2 cup milk
1/2 teaspoon white vinegar
1/2 teaspoon pure vanilla extract
1 egg
4 tablespoons butter, softened
For the Glaze
2 tablespoons milk
1/2 teaspoon pure vanilla extract
1 cup powdered sugar
Sprinkles, optional
Directions:
Preheat oven to 350.
In a large bowl whisk together the dry ingredients; flour, sugar, baking powder, salt, and cinnamon. Set aside.
In a saucepan combine the milk, white vinegar, vanilla, egg, and butter. Cook over medium-heat, constantly whisking. Once butter has melted; remove from heat.
Pour the milk mixture into the flour mixture & mix until incorporated.
Spoon the batter into an ungreased doughnut pan.
Bake for 12 to 14 minutes, or until a toothpick inserted comes out clean.
Immediately invert the pan onto a cooling rack to release the doughnuts. Let cool while making glaze.
8. In a small saucepan, cook glaze ingredients over medium-heat, whisking constantly until smooth. 9. Place the saucepan over a bowl filled with hot water. 10. Dip doughnuts in a glaze one at a time & place on a rack to dry.
Avoid a sticky mess by placing wax paper under the rack to catch the glaze that dips from the doughnuts.
If you choose to decorate with sprinkles, sprinkle each doughnut immediately after dipping in to glaze. Otherwise the sprinkles will not stick to the glaze.
Although Diethood's recipe said it made 12 doughnuts, I only got 8 doughnuts from the recipe. I probably filled my pan more than I should have. If you don't have a doughnut pan; don't walk, run out and get one. These doughnuts were delicious and took 20 minutes to make including bake time. If you ask me there's not much better than a fresh warm doughnut and since they're baked they have to be diet friendly, right???
DJ's Sugar Shack
to see the delicious Apple Blueberry Salad with Sweet Vinaigrette she whipped up!