Hi, it's Jen! I'm going to be contributing recipes on Jilly's blog once a month, and I'm so excited to get to know y'all! You can get a peak into my life over at
The Arizona Russums
. Please stop by... I'd love to meet you!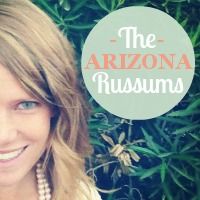 I've made this recipe twice in the past two weeks. It's
that
good. One time I made it as a main dish, because I try to do meat-free meals every now and then. About a week later I made it as a side with pork chops. This is great way to sneak some veggies into a delicious dish. My sister-in-law doesn't even like broccoli at all and she loved it!
Broccoli Cheddar Bake
What you need:
1 cup shredded cheddar (4 oz.)
3/4 cup milk
1/2 of an 8oz. pkg. cream cheese
2 tsp. herb garlic soup mix or marinade powder
3 cups cooked rice
2 cups cooked broccoli florets (small pieces)
3/4 cups crushed cornflakes
*For a healthier recipe, use nonfat milk and reduced fat cream cheese. You can also use brown rice if you prefer it.
What you do:
1) Preheat oven to 375.
2) Cook rice according to instructions. I use Minute Rice.
2) Take one broccoli crown and cut florets into extra small pieces. Sprinkle with olive oil, salt and pepper and bake on a baking sheet for ten minutes. Set aside. (You can also steam your broccoli if you prefer.)
3) Coat an 8x8 baking dish with cooking spray.
4) In a large skillet, combine cheddar, milk, cream cheese and soup mix (I couldn't find herb garlic soup mix at the store, but I found a packet of herb-garlic marinade powder on the seasonings aisle and it worked great!). Cook and stir over medium-low heat until cheese melts and mixture is smooth.
5) In a large mixing bowl, combine cooked rice, baked broccoli, and cheese mixture. Stir together until well mixed.
6) Spoon into greased baking dish and sprinkle with crushed cornflakes. I also sprinkled a tiny bit of cheese on top.
Cook your rice.
Cook your broccoli. I like mine baked, but you can also steam it.
Heat cheese sauce.
Mix rice, broccoli, and cheese sauce together.
Pour rice mixture into baking pan and top with cereal. I cheated and used Chex because I had it on hand, but I think it tastes better with Cornflakes!
Bake on 375 for 25 minutes. I sprinkled a little cheese on top because I couldn't resist!
Enjoy!